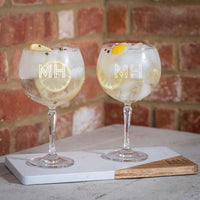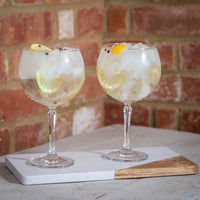 Gin lover's gift set which includes a pair of Etta Gin Bowls & the Denton Marble Drinks Tray. If you're looking for the perfect gift for a gin lover, then our Denton Etta Drinkware is the answer.
What better way to enjoy a warm summer's evening or cosy log fire than to sip on a cool glass of Salcombe's delicate, fresh and truly exquisite gin mixed with ice, lemon and tonic water? The Etta Gin glasses are elegant and the bowl shape is designed to trap the aromas of the gin inside the glass, enhancing the taste.
The Denton Marble and Wood Drinks Tray is a stunning centrepiece and the perfect setting to showcase your glasses and Home Bar.

Why not add a bottle of the exceptional Salcombe gin for that extra special gift.
PRHWDW015-S11
PRHWDW015-S16
PRHWDW015-C7