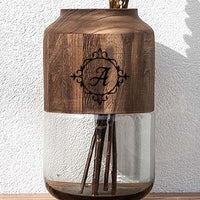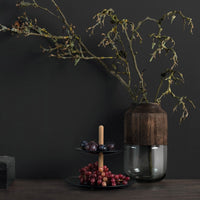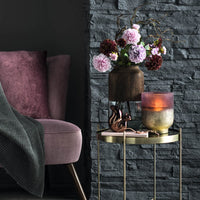 Our unique Eden wood and glass personalised vase is a perfect way to display fresh flowers. Or add pinecones for an artistic touch.
Vases have come a long way from simply being vessels to hold cut flowers. These days a stunning vase like our Eden Paulownia Wood & Glass Vase more than holds its own as an attractive complement to your home décor.
Use it as intended and fill it with fresh or high-quality artificial flowers to add colour and brightness to a room. Half fill it with decorative elements such as sand or small pinecones to create a focal point. Or leave it empty and place it centre stage somewhere in your home to be appreciated as a thing of beauty in its own right.
The Eden Paulownia Wood & Glass Vase will make a charming housewarming gift, wedding gift, or to add a touch of unique sophistication to your own home.
PRHWHD007-C2
PRHWHD007-S5
The Eden Paulownia Wood & Glass Vase is made partly from the wood of the Paulownia tree, which originates in China and is one of the most sustainable woods available.

Some have likened its fine grain and characteristic burls and ripples to flowing water which makes it the perfect material for floral displays.

Material: Wood & Glass
Dimensions: 18 x 18 x 32 cm